By way of background and as I have mentioned in other posts, I have all of the PIS products except Ingalls Field (because it is included in one of the other products). That is part of the reason why I bought Taiwan Taoyuan despite its price being beyond what I regard as my "tipping point" when it comes to payware add-on airports.
I wonder whether other flight simmers have a similar price resistance because I note that when allowance is made for how the PCA Aust star rating system operates, there has only been one customer vote - and that was mine. That would seem to indicate that there has not been much by way of sales of it at PCA Aust or that everyone who bought it there can't be bothered to vote. Perhaps, that means that I don't stand much chance of anyone knowing the answer to my query below about the towers.
I enjoy this product and it is a good "value for money" purchase for me, despite the price.
I don't have a problem with the product, merely a query about something which intrigues me.
It is about the towers. I am concentrating on the grey tower, not the gunmetal blue one.
As you can see from the screenshots below, I have an adult and child combination of towers. There are subtle differences between the two.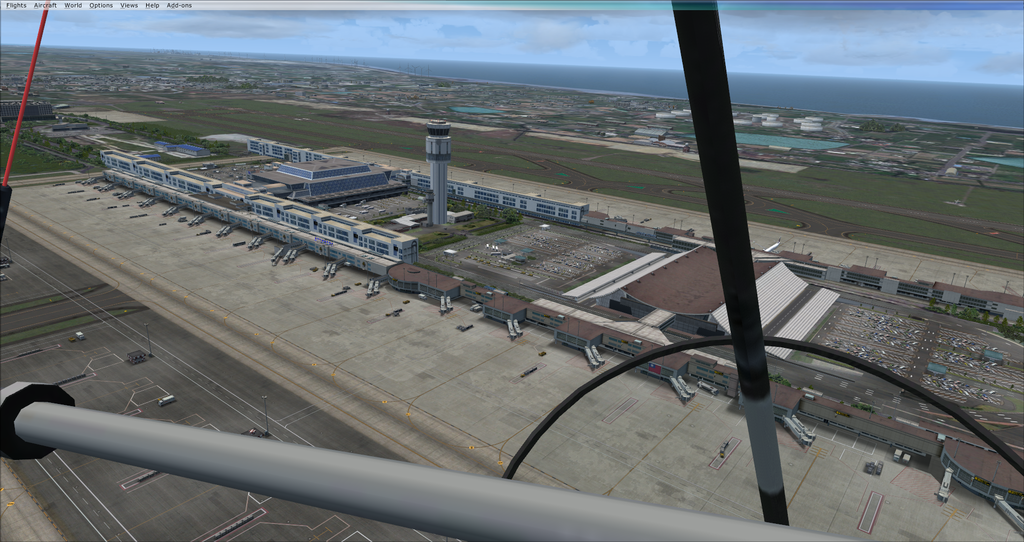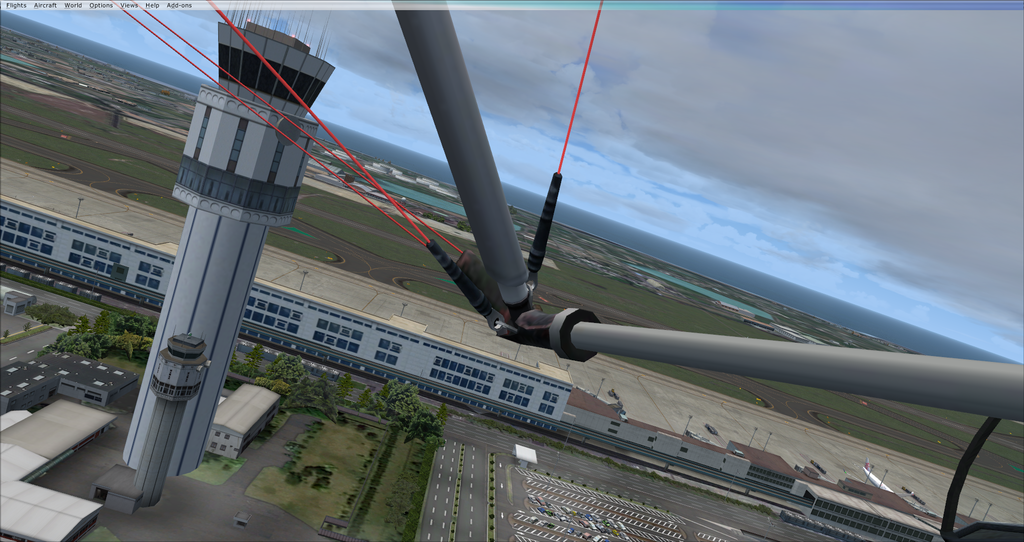 However, I can't find the smaller one in any of the product screenshots on PCA Aust at or in real life aerial photographs.
Is this a glitch with my installation or is it a version of artistic licence, something like appears to be like the tree on the terminal building roof in Aerosoft's Kilimanjaro Airport 2015 at ?
Also, one thing to watch for when selecting the airport for loading in FSX. The first time I used it, I selected the only Taoyuan entry in the Select Airport list, only to find myself at RCGM which is about 1km south-west of the intended airport and which has a runway parallel to it. RCGM appears to be a military airfield although in the aerial photos on Google and SimTouch Plus 2, it appears unused.
Despite the product name being the name of RCTP since 2006 when it was changed to that name from the previous name of Chaing Kai-Shek Intl, in the FSX Select Airport list the airport still appears in its old name.
Gary