Hi all simmers

I am pleased to advise that Aussie Star Flight Simulation (ASFS) has an all new WordPress website. It replaces the website of 10 years under the Aussie Star Hops address. The site aims to be a support base for Australian virtual pilots. As such it aims to bring together as many flight simmers as possible in the one site. It is believed to be the only general website of its kind in Australia. Membership is encouraged to amass a collective of knowledge and experience to be explored and shared. While it aims to support simmers in our geographical region, international members are still most welcome.
Many of the features of the old site still remain - published tutorials, flight plans etc., some of which are new releases. But there are some innovations as well. Developers and news sites are being constantly monitored, and the Home page News section provides up-to-date information on the latest news and new releases.
A significant improvement is the inclusion of a forums page which acts as the communication hub for ASFS. The community forum currently includes sub-forums on Hangar Talk , I Can Assist With . . ., I Need Help With . . ., and, My Flights. There are also forums for each of the FS platforms and cockpit building. Subscription to the forums is separate to general membership subscription.
Check it out. it's still in development which can only be improved by a wide subscription base.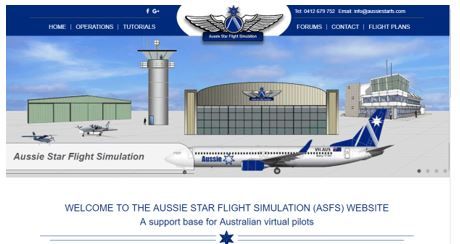 Greg Whiley (CaptAus)